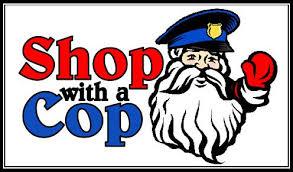 How it works…before Christmas the selected families provide a list of needs and complete an application. Once the families are selected, one child from each family goes with Officers and shops for gifts at local businesses. Volunteers from ACT NOW and the Gerrish Twp. Police Dept. wrap and tag all of the gifts and deliver them to the families a few days before Christmas. We sponsor 7 families each year.
Since 2002, the Gerrish Township Police Dept. and ACT NOW have sponsored this community program and have brightened the holidays for 121 families including 457 children and 203 adults!
For more information on donating to Shop-With-a-Cop click here: SHOP WITH A COP Info 2018
For a Shop-With-A-Cop APPLICATION click here: Application for SWAC (No Questionnaire)
2017 SHOP-WITH-A-COP
Thank you to all of the donors, volunteers and officers that made this year's program a success! We provided gifts for 7 local families which included 28 children and 12 adults.
2016 SHOP-WITH-A-COP
Thank you to all the donors who helped make our 15th Annual Shop-With-A-Cop a great success. We provided Christmas gifts for seven local families which included 20 children and 12 adults! Thank you to the volunteers who helped wrap all the gifts and to the Gerrish Police Officers that shopped with the children and delivered the gifts on Dec. 22nd.